Employee-ownership is central to our commitment to excellence in service.
Because we are committed to the long-term success of our clients, our employees and our company, we hire the best in the industry.
Our greatest advantage is the dedicated, experienced and self-motivated group of employee-owners that make up the ASU team.
We provide interesting and challenging work along with a professional, supportive and friendly atmosphere.
Why Join the ASU Team?
Our core values of integrity, respect, customer value, accountability and innovation embody our mission and philosophy.
Integrity – We adhere to high ethical principles and standards. We base our actions on doing the right thing at the right time for the right reason.
Respect – We value the differences in everyone we work with and treat them with dignity and courtesy. We believe in open communication with our employees, encourage input and value ideas and suggestions.
Customer Value – We strive to understand our clients' needs and consistently deliver on our promises.  Our clients appreciate that, as an employee-owned company, we are committed to their satisfaction.
Accountability – We accept responsibility for our actions both as an individual and as part of a team.
Innovation – We embrace and invest in innovation and give employees the resources they need to do their work better.
Our Benefits
Health, Dental and Vision Insurance
Flexible Spending Accounts
Life Insurance
Short Term Disability
Long Term Disability
Paid Vacation
Sick Leave
Personal Days
Holidays
401k Plan
Employee Stock Ownership Plan (ESOP)
Educational Assistance Program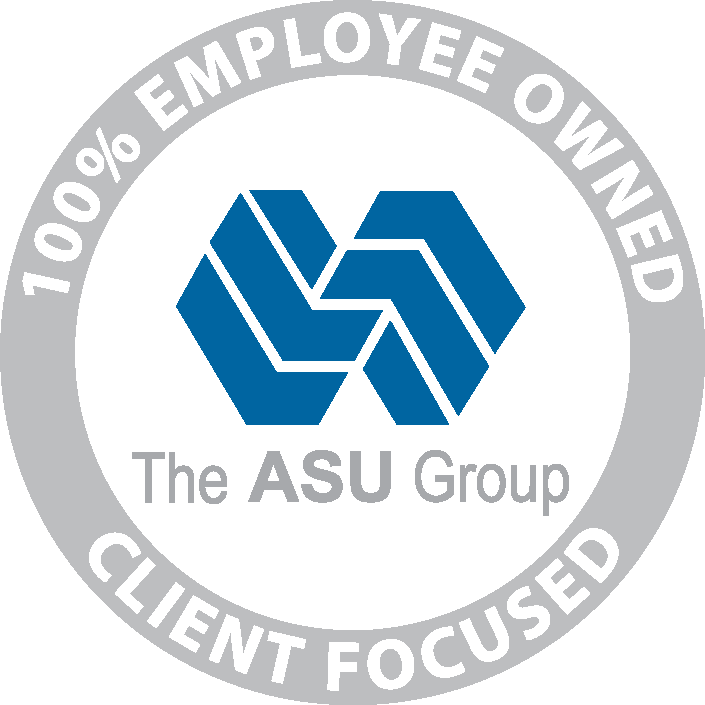 What is an ESOP?
The ASU Group established the Employee Stock Ownership Plan (ESOP) in 1982 to provide employees with a supplement to their retirement income. It was also created to attract, and most importantly, retain the best talent so we can meet the ongoing needs of our clients.
The ESOP is an important element of employees overall retirement plan.  However, unlike all of your other retirement investments (your 401(k), social security, home equity, savings, etc.) this benefit does not require any monetary contribution on your part.  In other words, this beneficial ownership gives participants a piece of the company without having to personally purchase any of the company's stock.
In addition to the monetary benefits, there are intangible benefits as well.  These come in the form of how an ESOP allows us the freedom to think and act differently than non-ESOP companies – no matter what our role is.
Each of us thinks and acts like an owner. As an ESOP employee-owner, a bit of the buck stops at all our desks.  Our individual daily activity affects the company's bottom line.
More info at ESOP'S visit: http://www.esopassociation.org/
More Information
ASU Group
2120 University Park Drive
Tel: 517-349-2212 or 800-968-0278
FAX: 517-349-9053
Email Human Resources
Policy of Equal Employment Opportunity
It is the ASU Group's policy to provide equal employment opportunities without regard to an individual's status in any protected group, in compliance with all applicable federal, state and/or local laws.  We will administer all conditions, benefits, policies and procedures of employment based upon equal employment opportunities established by law.  Characteristics protected by law include sex, gender, pregnancy, race, color, religion, age, disability, national origin, citizenship, and genetic information.