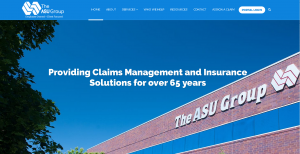 As ASU Group celebrates its' 65th year in business and its' 35th year as an Employee-owned company, it is pleased to announce the launch of its' redesigned and refreshed website – www.asugroup.com.
One of the goals of the new website was to provide a more comprehensive understanding of all the services ASU provides and the industries we serve. The new site also offers updated information on our Certificate of Insurance Tracking and our Technology services, as well as updated news and a new blog.
"We are excited about our new website launch and the enhanced content. We believe it will give our partners, clients and visitors a better understanding of ASU's services and cost containment solutions as we continue to grow and service our clients. " said Debra Claeys, CEO and President of ASU.
About the Company
The ASU Group has been serving the insurance industry since 1952. The employee-owned company provides Claims Management and Insurance Services including Independent Claims and National Catastrophe Adjusting, Medical Cost Containment, Third Party Administration, Certificate of Insurance Tracking and Software Development to insurance companies, corporations, municipalities, government entities and self-insured organizations throughout Michigan and Wisconsin as well as several Midwest states.